10-10-10 AC Heat Pump Triple Protection Warranty
When you buy an AC from a contractor near you, the products come with a 10-Year part warranty unless the contractor completes the warranty registration on the manufacturer's website for you, otherwise, you can only get a 5-Year part warranty as default.
Here is a sample of warranty terms that one of the top manufacturers offers, others offer similar terms.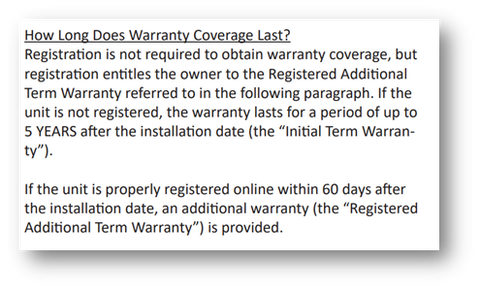 You will need more information as below to fulfill the warranty application, as a homeowner, sometimes this information is hard to get.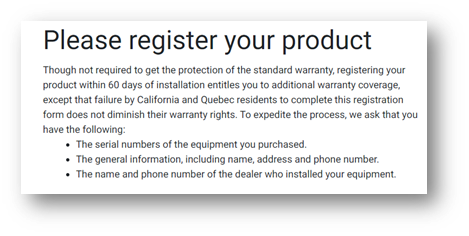 Even though you play very hard to complete the warranty registration and get a 10-Year part warranty finally, once the air condition fails, you still need to pay as follows:
One-time fee for inspection to identify the problem
Part is free during the warranty period but you still need to pay for the shipping cost
Labor cost to fix the AC is additional and expensive.
Depending on which component fails and the labor cost in your area, each repair would cost you from $150 to $650. Within a 10-Year usage period, it would probably cost you $1000-$1500 just for repairing. What's worse, you would suffer 2-3 weeks without air conditioning!
InverterCool innovative 10-10-10 Warranty will solve all these issues. Such warranty includes:
10-Year Limited Part Warranty
10-Year Labor Warranty
10-Year FDD Service
Stay protected with InverterCool triple protection commitment and enjoy extensive coverage of both parts and labor warranty costs.
With our FDD Service that keeps your heat pump operating with the best performance, InverterCool heat pump makes your life easier and gives you peace of mind for the next 10 years and beyond.
No registration requirement because once the FDD remote device is active, InverterCool Cloud will identify the equipment automatically. Thanks to InveterCool FDD technology, if the equipment's performance is not good or components are going to fail, the FDD device can detect the issues and report them in the backend, InverterCool staff will either OTA upgrade the system software to fix the issue, or contact you immediately and set up an appointment for on-site checking. Your comfort is most important to us.
Here are the outstanding benefits of the 10-10-10 InverterCool warranty, no hiding and unexpected cost at all!
| | | |
| --- | --- | --- |
|   | InverterCool | Others |
| 10-Year Parts | No hassle | 5-Year if not register |
| Shipping Cost of parts | Free in 10 years | At your own expense |
| Repairing labor | Free in 10 years | At your own expense |
| Downtime | No | 2-3 weeks in the worst case |
Put InverterCool air conditioner heat pump into your replacement plan and experience our one stop services for smart ac system with order online, professional installation and this triple warranty today. Order Now>>
Choose for your needs or leave comments below if you're interested in InverterCool!