A Home Transformed: A Homeowner's Journey with InverterCool Heat Pump
Are you searching for an energy-efficient and environmentally sustainable heating and cooling solution for your home? Are you tired of dealing with an outdated system that needs an upgrade? We are excited to share the inspiring experience of a new customer who transformed their residence by purchasing an InverterCool heat pump. Join us as we explore their journey and discover the remarkable benefits that our heat pump brought to their home.
The Quest for Efficiency and Comfort 
Our customer is a homeowner of a spacious residence with four bedrooms, two and a half bathrooms, and 2,335 square feet. They had been on the lookout for an energy-efficient and reliable HVAC solution for a while. Living in California, with its fluctuating temperatures and humidity throughout the year, they desired a system that could maintain optimal comfort while minimizing energy consumption. After extensive research, they discovered the game-changing technology of InverterCool variable-speed heat pumps and embarked on a path to revolutionize their home's climate control.
Highly Efficient Heat Pump Recommendation
Compared to traditional HVAC systems, the InverterCool heat pump stands out with its inverter-driven technology. It not only uses electricity to quickly heat and cool the air but also features a variable-speed compressor with 30 stage settings, ensuring precise and efficient temperature control while using less energy. This makes it highly efficient and environmentally friendly. Recognizing the potential of this technology to provide year-round comfort, the homeowner chose the InverterCool heat pump.
Tailored Consultation and Seamless Installation
To ensure a successful heat pump installation, our expert team engaged in detailed consultations with the customer. We conducted a site inspection and confirmed specifications. Based on our assessment, we recommended a heat pump system that would deliver optimal performance and efficiency. Once the system arrived, the customer requested our installation service. With meticulous planning and careful execution, our skilled technicians flawlessly installed the heat pump in just one day. We seamlessly integrated the air handler horizontally into the existing infrastructure.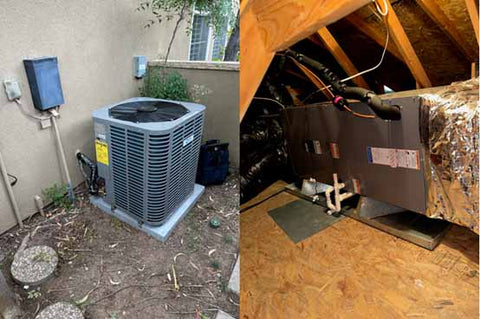 A Paradigm Shift in Comfort
Following the installation, our customers experienced a paradigm shift in their home's comfort and energy consumption. Here are some of the remarkable benefits they enjoyed:
      1. Energy Efficiency Unleashed: The InverterCool heat pump's exceptional efficiency led to significant energy savings, reducing the homeowner's carbon footprint while cutting down on utility expenses.
      2.Consistent Comfort, All Year Round: With its dual heating and cooling capabilities, the heat pump ensured a comfortable environment throughout the seasons. Whether it was winter's chill or summer's swelter, the home remained a haven of comfort.
      3.Wholesome Air Quality: Our heat pump's advanced filtration system captured airborne allergens, dust particles, and pollutants, promoting improved indoor air quality and a healthier living space.
The Voice of a Satisfied Customer
After one month, the homeowner sent us feedback, a testament to their satisfaction with the heat pump installation. They and their family expressed their delight with our team's professionalism, the seamless transition, and the positive impact the heat pump had on their daily lives. Their testimonial serves as a shining example of our commitment to providing exceptional HVAC solutions and exceeding customer expectations.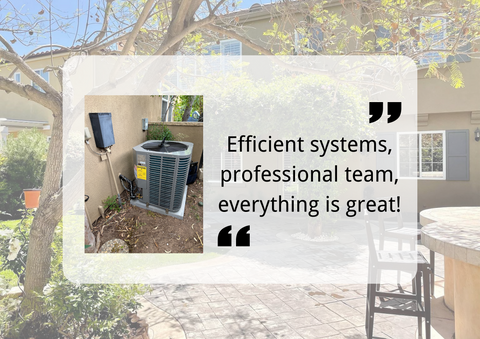 The transformation of this four-bedroom, two-and-a-half-bathroom, 2,335-square-foot residential property through the installation of an InverterCool heat pump showcases the power of innovative HVAC technology. By embracing the efficiency and comfort provided by our heat pump, homeowners can revolutionize their living spaces while contributing to a greener and more sustainable future. Join us on this journey towards energy efficiency, and let us help you unlock the potential of a heat pump for your home.
Contact us today to learn more about how a heat pump can transform your home into a haven of comfort and efficiency.